Accessing the sharing area
All sharing actions can be performed in the sharing area for a VoiceThread.  You can access the sharing area from several different places.
From the VT Home page
Hover your mouse over the VoiceThread you want to share.
Click on the share button.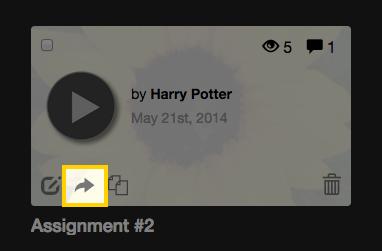 Note: You can select multiple VoiceThreads, and then hover your mouse over one and select "Share" to share several at once.
From the Create or Edit page
Navigate to the Create page for a VoiceThread you own or can edit.
Click on the "Share" button near the top of the page.

From an open VoiceThread
Click on the menu in the top-left corner of the VoiceThread.
Select "Share".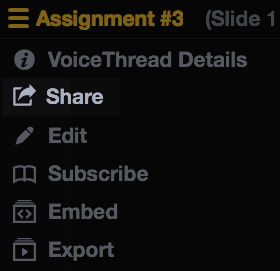 ---
To share multiple VoiceThreads with a Group at once, check the box next to each VoiceThread you want to share, and then click on the share button at the top of the page.